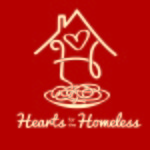 "Hearts for the Homeless" Annual Spaghetti Supper will be held on Tuesday, April 25th, 5:00 pm to 7:30 pm.  This year's event will be hosted at four local churches: Dahlonega Baptist Church, Dahlonega United Methodist Church and St. Luke's Catholic Church.
The fundraiser is a project of North Georgia Interfaith Ministries, Inc., (NGIM) as they work to address the problem of homelessness in Lumpkin County.  Jimmy Faulkner, Chairman, and the membership of NGIM are dedicated to providing the homeless with transitional housing as well as counseling and support services to address the root cause of their circumstances.  It is the vision of NGIM to give the residents a hope and a future with the intent of changing the trajectory of their lives.
Jeremiah's Place is an eight-unit complex, comprised of 4 duplexes on two acres of land off Red Oak Flats Road in Lumpkin County.  Jeremiah's Place has six residential units and two support units. One support unit is used as the residence for the on-site Facilities Manager.  The other support unit is the office of the Program Director who oversees the resident intake process and arranges counseling and educational opportunities for the residents.
Jeremiah's Place first opened their doors to a family of five just before Christmas of 2015. Currently five of the six residential units are filled, housing five families with a total of twenty people.
Last year the Spaghetti Supper served over 650 meals and the goal is to serve 1000 dinners this year.  This event is an opportunity for the community to come together to help those in need here in our own county.  Last year volunteers and sponsorships came from local churches, businesses, banks, sororities and fraternities, and youth groups.
Tickets for the Spaghetti Supper will be $10 per person or $25 for a family (two adults and children 18 and under).  Tickets will be available in early March at all four of the hosting churches.