Homelessness is a problem in Lumpkin County.  There is no way to accurately determine  how many homeless people there are in our county, but our public school and law enforcement officials can attest that the need to house people without homes is great.
The causes of homelessness are many — insufficient income, unanticipated eviction, emergencies, poor financial practices.  Homeless people stay with relatives, in their cars, in tents, and under bridges.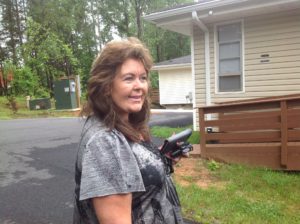 We help people in need of transitional housing at Jeremiah's Place, a four-acre campus with six apartments for those in need.  We provide our tenants with a clean, safe place to stay while they "reset" their lives.  We teach them to follow budgets, teach them to shop, set up a savings plan, and other life skills that they need to afford a place of their own.
We accept single women and families.  Those in need contact our program manager, set up an interview, and take a drug test.  Each case is reviewed by a panel, and those accepted can stay up to 90 days.  Each tenant meets weekly with the program manager, who checks program progress and offers advice and counselling.
The process involves developing a budget and savings plan, weekly accountability meetings with the Program Manager,  instruction in how to make good purchase decisions and, if needed, assistance in obtaining better jobs.  Bible studies are also provided.
In 2016, all tenants had places to go after leaving Jeremiah's Place.