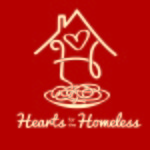 5th Annual Spaghetti Supper Returns
Plans for the 5th annual "HEARTS FOR THE HOMELESS" Spaghetti Supper are underway. The event will take place on Tuesday, April 9th from 5:00pm to 7:30pm at 4 different locations: Dahlonega Baptist Church, Dahlonega United Methodist Church, Mt. Gilead Baptist Church and St. Luke's Catholic Church.
The annual event benefits Jeremiah's Place, Lumpkin County's "ONLY" Transitional Housing facility for the homeless. It has been in operation since 2015, formed and operated by the North Georgia Interfaith Ministries, Inc. This ministry exists completely on the generosity of private donations, and the Spaghetti Supper event serves as a substantial portion of it's operating expenses.
Tickets are $10 for Adults  and $25 for families, "CHILDREN 6 AND UNDER ARE FREE". Tickets can be purchased at each of the four hosting Churches, The Dahlonega Visitors Center or at the door. For information, contact Jeremiah's Place at 706-867-5404 or e-mail lumpkincountyhomeless@gmail.com
Spaghetti Supper Family Ticket